JUNE …
..is busting out all over, as Mr. Hammerstein once wrote, and so do we seem to be…in every way…out of doors…out of  houses and apartments that have been too small or too comfy for too long… out of pants that used to fit…
…OUT into whatever this new world, with all its new twists and turns offers or demands or threatens.
I am tentatively sticking toes out of the house and garden and into tomorrow. I must admit I have been lucky enough to have a comfy home, a loving husband, several furry children, and a big old garden to make this past isolation sweeter. So I sneak out rather than leap, reluctant to let go of the quiet time. But so happy to reconnect with beloved pals IN THE FLESH!
And I am constantly reminded that HUGGING is THE BEST THING IN THE WORLD!
My BURIED TREASURE this month is a song I love that I  had the honor to write with that most wondrous songwriter from Nashville, Mike Reid.
(You probably know one of his huge hits…I CAN"T MAKE YOU LOVE ME IF YOU DON'T. Bonnie Raitt had a #1 hit with it.)
I have a passion for country music. It's the lyrics, baby, the lyrics!
The stories they tell. This one is called KEEP ON WALKING.
I dare you not to dance around the room!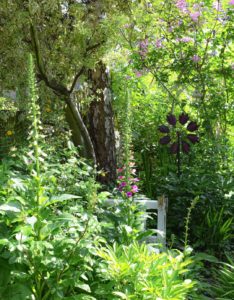 I have not been a complete sloth during my time of isolation. A little bit of song writing here and there with my brilliant pals Ann Hampton Callaway and Michele Brourman. I thought I would share with you the lyric to the latest Mc/Brourman creation.
THE END OF ISOLATION 
HEY THERE NIEGHBOR, HOW YOU DOING
NOW THAT ISOLATION'S DONE?
DID YOU GAIN A HUNDRED POUNDS?
WASN'T IT A LOT OF FUN?
ME, I'M FEELING BRIGHT AND CHEERY
HEAR ME SING A LOUD TRA LA
MASKS ARE NOW MY FAVORITE FASHION
AND I EVEN FOUND MY BRA
I HAVE LEARNED THE ART OF ZOOMING
SOMEDAY SOON MY PANTS WILL FIT
NO MORE STARS SING THEIR BEDROOMS
BELTING SONGS THAT SOUND LIKE SHIT
THERE WERE THINGS I LEARNED TO LOVE WHEN
CHARDONNAY BECAME MY PRAYER
HOW TO PLAY THE FLUTE IN SPANISH
THE TRUE COLOR OF MY HAIR
WHAT WAS ALL THE FUSS I WONDER
WITH THE PANIC AND THE FEAR
ART AND THEATRES ALL WENT UNDER
BUT THE SKIES WERE REALLY CLEAR
POLITICS IS SO MUCH BETTER
NOW THE COUNTRY'S SPLIT IN TWO
WITH THE KINGDOM OF THE RED
AND THE REPUBLIC OF THE BLUE
YOU KNOW THOSE SHOES I ALWAYS WANTED
YESTERDAY I WENT AND BOUGHT 'EM
HAVEN'T SEEN MY HUSBAND LATELY?
HONEY, THAT'S BECAUSE I SHOT HIM