HELLO ALL YOU LONG LOST FRIENDS!!!!
Did you think I had died? Taken a vow of silence? Thrown my hands in the air and my computer off the balcony???
NO!!!!! None of that happened. Everything ELSE happened! LIFE, in all its wonderful twists and turns happened. But, as the little girl Carol Ann said in "POLTERGEIST"…
I'm Baaaccckkk! Back to the land of Gossip and Goodies and delighted to be so.
There is so much to catch up on!
For a start, HAPPY NEW YEAR!
We made it! Congratulations! You in the Midwest and East survived the Polar Pounding. We in the West doubled down on our moisturizer order and are starting to PAINT our gardens green, since we may never see rain again. But, to quote the ever-wise Mr. Sondheim, "WE'RE STILL HERE."
I am calling this year so far" OH, MY FLAMING PASSPORT!"
It started with the annual jaunt to our home in New Zealand.
The trip was a great one, from the moment I stepped into the airport lounge at LAX to find Rufus Sewell sitting there waiting for a plane to London, drinking something healthy and looking absolutely gorgeous.( I must admit I have a terrible crush on him. Even named my cat after him.)We even chatted briefly. It was great omen for a great trip.
For the first time this year, we went exploring in the South Island, land of Hobbits and Orks. We saw the astounding glacial lakes of Wawaka and Hawea. We cruised the green and rainy wonder that is Doubtful Sound at the very bottom of the South Island, where we saw a thousand thousand-foot water falls descending into the jade green water, we parked in front of the astounding Mt. Cook, snow covered giant Alp of the Deep South, knee high in rainbow colored lupine. I even was brave enough to descend into the earth to see the Glow Worm Caves of Te Anau. That says a whole lot for me. I am a dyed- in -the -wool claustrophobe. A tight sweater makes me REALLY NERVOUS. And there I was underground, under rocks, in a tiny boat in a big old cave whose ceiling was studded with shining lights,,as many as the stars in heaven, only coming from the shining behinds of millions of tiny New Zealand Glow Worms. It was wondrous. It was scary. It was Disneyland on some very strange drug. I am so glad I did it. As my pal Lois Foraker once said to me, "Is this the scariest thing you have ever contemplated doing? Then you MUST DO IT. You won't be scared of it ever again." She was right, as she always has been.
Then home for a week and off to London on Valentine's Day weekend to sing at the memorial of a lovely and brilliant actor friend named Gerrard Murphy. He and I had the most wonderful conversation, via stationary with stamp and envelope ( thank you very much) for many years. I adored him. And had no idea how famous he was. We had met at Pizza on the Park when I first came to London to sing. He was the warmest, the most charming, the most fascinating…ah, well. Imagine my surprise when I was asked to sing at his memorial on the stage of the Haymarket Theater , the oldest theater in the West End of London, for the likes of his friends Alan Rickman and Ciaran Hinds and a host of other theatrical luminaries.I am so glad they asked! And I answered!
Then home for two days and off to…AFRICA!!!!!… our very fist time to visit that astounding continent. We loved every single amazing, perfect moment and person we met.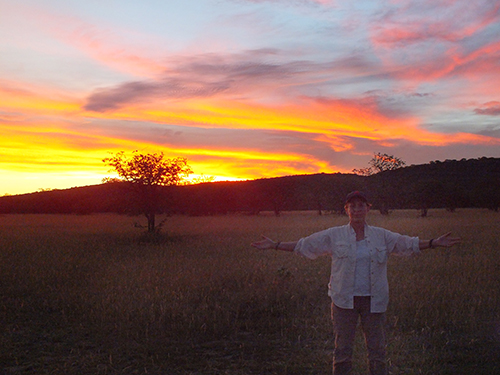 The safari to the dunes of Namibia, a wild game park in Namibia, Victoria Falls in Zimbabwe, a ride on the Blue Train ( the South African version of the Orient Express…king size beds and marble bath rooms and BUTLERS on a TRAIN! With zebras out the windows. OMG!
Then home for a week and BACK to London with my beloved George , where we knocked them on their proper British derrieres with our week of duo concerts of love songs for grownups which we called SOME ENCHANTED EVENING.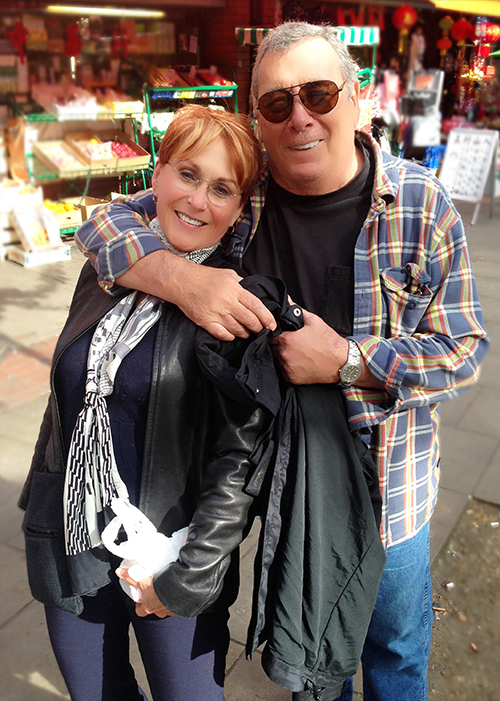 It was a glorious experience and a proper kick off celebration for the release of George's first CD, "THINK OF ME", which I have been goading him to do for only, oh, 30 years or so. The brilliant Michele Brourman and Stephan Oberhoff produced. And it is a TRUE THING OF BEAUTY… something you want to listen to with a glass of fine wine, candle light, and someone you love. For he is the one I love.
AND YOU TOO CAN HEAR THIS AUDIO WONDER.
AS OF JULY 8TH, I TUNES AND AMAZON WILL CARRY IT.
NOW YOU CAN GET IT FROM LML RECORDS.
GET IT!!!
And now I am home for a big old 6 weeks or so, before winging off to Australia for a couple of concerts with my pal Michele in their July winter time. Seriously…oh, my flaming passport!
AND Michele and I are on board once more to write love songs for baby dinosaurs for the newest animated chapter of the LAND BEFORE TIME animation series.
Life is very, very good.
From the FUNNY corner…
English is not easy…
MY CULTURE CORNER
READING:
HAROLD-the autobiography of Hal Holbrook…absolutely fascinating
THE REASON I JUMP-by Naoki Higashida…written by a severely autistic and very poetic young Japanese boy about what it is like to live in the land of autism. A must read!
LISTENING:
Everything by Tierney Sutton. She is a FABULOUS jazz singer and a new friend. Wow!
WATCHING:
GAME OF THRONES, of course!
SILICON VALLEY- absolutely hilarious and so SMART!
PENNY DREADFUL-wonderfully trashy, and Eva Green wins all the awards there are in my book!
THE POETRY POUF:
I have decided to include a piece of my poetry every time I blog…is this a blog? In case you might enjoy it., AND/OR know someone who likes to publish obscure poets.
So here is this month's opus, for your enjoyment, I hope.
TODAY I WILL…
START THE DAY WITH GRATITUDE
LIGHTEN UP MY ATTITUDE
CHANGE MY TEE SHIRT FROM BEELZEBUB
TO MORE OF A BEATITUDE
ATTEMPT TO BE MORE DOG-LIKE
WITH SOMEWHAT LESSER CAT-ITUDE
MY BELFRY FILL WITH LOVE AND LIGHT
TO CHASE AWAY THE BAT-ITUDE
OF JUDGING IMPERFECTIONS
THE CURSE OF "I WANT THAT"-ITUDE
MAY I SET MY COMPASS TOWARDS THE STARS
AND FIND A FAIRER LATITUDE
MAKE KINDNESS MY REALITY
NOT JUST A PLIANT PLATITUDE
FORGIVE MY SELF FOR LESSER SINS
LOVE LOSSES JUST AS MUCH AS WINS
AND AS THE DANCE OF DAWN BEGINS
START MY DAY WITH GRATITUDE
Love to you all!