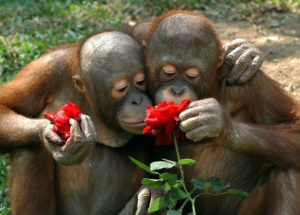 Well, hasn't THIS just been the most interesting couple of months?!!!
The Spring of Covid 19, when the world changed forever!
We have all read the books (WHEN THE ENGLISH FALL comes to my mind) of when society is faced with some enormous disaster…when the Mother finally decides she has had about ENOUGH and starts exterminating the ants in her jungle kitchen…the ants being US.
And to watch it all unfold from the peaceful shores of Cooper's Beach, New Zealand, the most beautiful place in the world… was surreal.
Of course, this community, being retired Kiwis, are healthy, well-behaved, ruled by a BRILLIANT Prime Minister whose decrees they follow to the letter. When she says stay 6 feet away from EVERYBODY, including the people you have been having drinks with for two weeks, they obey!
So for three lovely weeks, as their summer turns to Fall, we watched the human race fall into whatever this next paradigm will be.
And EVERY one told us to STAY THERE. We are too old to come home to a hot zone. I tried! I swear I tried. But the call of pets and gardens and home was too strong. Besides which, had we stayed another day I would have gone out of my mind from homesickness, boredom, and carbohydrates.
(And the local liquor store had closed so there would be no Vodka, and that will NEVER do.)
For three days we tried to get out of town. Flights being cancelled last minute, no more flights to be had. We packed, we unpacked, we emptied the wine bottles, we bought more wine, we ate all the cheese and bread, we bought MORE cheese and bread.
Finally two incredibly dear friends transported us from 5 hours North to the Auckland airport. Richard drove us to Whangerie (with beloved pup Nigel snoring in the back seat next to me where I could find comfort in the act of petting something). Then lovely Bevan, son of dear, dear Hugh and Diane, who handed us pots of hand sanitizers and waved us away, drove us the next 21/2 hours to the airport on beautiful totally empty roads.
The airport was close to totally empty as well. We were EARLY, so they told us we had to sit on a bench outside for two hours before they would let us in to the terminal. I had to walk to the domestic terminal 15 minutes away, to pee… SOME exercise, thank God!
Then some kind Air New Zealand man let us in, and we wandered through this almost totally empty international airport till we found a wheelchair for G, the ONLY kiosk that was open with some juice and Cokes, and we sat for another 3 hours till it was time to board.
Seeing the entire crew in masks and gloves was a bit disturbing… or maybe reassuring.
To see the various ways people are choosing to protect themselves, from nothing to wrapping themselves entirely in plastic was a lesson in the variety of the human fashion sense.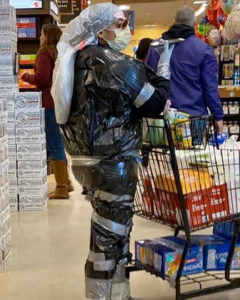 (This is actually a shot from a market in Joshua Tree, but her sister in fashion was standing by the curb at the Auckland airport.
Wee made it home at last, arriving at a totally empty LAX, another surreal moment. We self-isolated for two weeks, waving at friends And now we seem to be germ free, as do all of our beloveds.
And what will the world become, I wonder? Kinder?… more divisive? …more aware of the POWERFUL fragility of our mother planet?…Stay tuned!
And here is a poem I wrote for the little girl I met staying at the house next door to us on the beach. Her name is Ruby Belle. Long many she wave!
RUBY BELLE
I MET A GIRL NAMED RUBY BELLE
UPON THE SILVER SAND
WITH GOLDEN CURLS UPON HER HEAD
A SEASHELL IN HER HAND
SHE LED ME TO THE WATER'S EDGE
TO WATCH THE WAVES AT PLAY
SHE THREW A KISS, UNFURLED HER WINGS
AND SOFTLY BLEW AWAY.