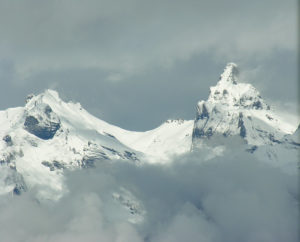 We made it! We have survived the maelstrom of 2018 relatively intact, although the worry lines in my forehead are deeper than usual. But that is the state of the world in general. Everyone on the planet could use a massage and some meditation right now!
The Thanksgiving and Christmas holidays were a joy this year, quiet and thoughtful, as opposed to last, when we, all seven of us, dogs, cats, us and our pal Rob, were in a state of high evacuation anxiety, even though we were holed up in the heart of wine country with our beloved and tolerant cousins. Who else would allow three dogs, three cats, and three actors to move in for more than a week? This Christmas, the world of fire and fear was just down the hill in Malibu and Woodland Hills. We could totally empathize!
And now the New Year has toddled in the door. What will it bring? Peace, please. Sanity for all leaders everywhere, we pray. My own personal plea to and for myself, is more tolerance and less judgement, with a healthy dose of listening, and a deep desire to do more for the good of the planet.
I sit here typing and watching the rains of January fall from these white and silver clouds that rim the mountains around me with deep gratitude in my heart for water falling from the sky. There has been so little of it these past few years. I am sure we will need to put those buckets back in our showers and sinks by the time summer rolls in. But for now, like the trees, I sigh and rustle with damp relief!
One of my resolutions this year is to update this page MUCH more often. Once every eight ten months will not do! Total slackerism.
So what were my great gifts of late? Being able to perform concerts with my beloved pals Ann Hampton Callaway and Michele Brourman here and abroad. Slumber parties of song!
Being invited to be on a panel with exquisite songwriters, Allan Rich and Artie Butler, waxing wise about writing songs for film…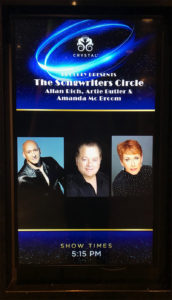 AND cruising around the Pacific on a gorgeous ship, celebrating 45 years of a wondrous marriage to an amazing man …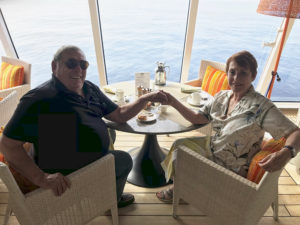 … meeting new friends and fascinating strangers. (The brilliant Artie Butler! Oh Joy!)
I realize I need to get out more! Meeting new and fabulous folks is a gift the Universe so freely gives! You just have to leave your front porch! I resolve to do more of that too.
What have I seen, what have I read, what have I loved?
THEATER: COME FROM AWAY…the most heart warming, life affirming true story turned musical of the decade! Do not miss it if it comes within 200 miles of your town!
(We reunited with a dear long ago pal and brilliant actress, Julie Johnson, who is in the national touring company. SO a great reunion!)
FILM: THE WIFE…oh, Glenn Close, you slay me! Talk about mastering the art of subtlety!
BOOK: RISING OUT OF HATRED…wow! The true story of a White Supremacist who changed his mind.
MUSIC: At this moment, the score to THE LAST SHIP by Sting. Wow! What a brilliant mind! What artistry. I am intimidated AND inspired!
My practice for this year…to write a thank you note…on PAPER and mail it WITH A STAMP to someone EVERY DAY who has made a difference in my life…the plumber…the mail lady…my dentist…whoever.
So far, so good.
So I chant for less fear, more intelligence, patience, kindness, and warrior's courage to stand against inequity and untruth in my life and in my country.
Happy Winter!