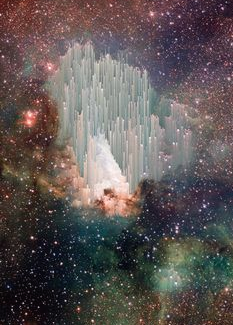 Tis' mid December, 2015, amazing as that may seem. It certainly amazes me. This strange, tumultuous year has flown by, blown by winds of change, fury, exhaltation. Life on steroids! If this year was a cup of Starbucks coffee I would say it was a QUAD…as in four shots of espresso!
Since last I blogged (I still find that such an odd verb!), it has been such a dance! October in New York, singing a brand new show at 54 Below, filled with very new and very old song- children. I am always anxious when new musical children make their debuts. This was a whole schoolyard of new babies.
It was wonderfully well received, much to my relief, by the best audiences in the world…New Yorkers! They even sang along with enthusiasm to my (with Michele Brouman, of course) latest totally impolite political carol about all those running for office called "RUN RUN".
Then to Town Hall, that grand old theater in the heart of Manhattan, to kick off the Cabaret Convention. And to be honored with the Mabel Mercer Award! I always say I am supremely blessed to be in that odd edge of the musical world where it is OKAY to grow older. At the end of the evening, this entire panoply of brilliant performers joined me onstage for a rousing, tear filled rendition of THE ROSE. Unforgettable!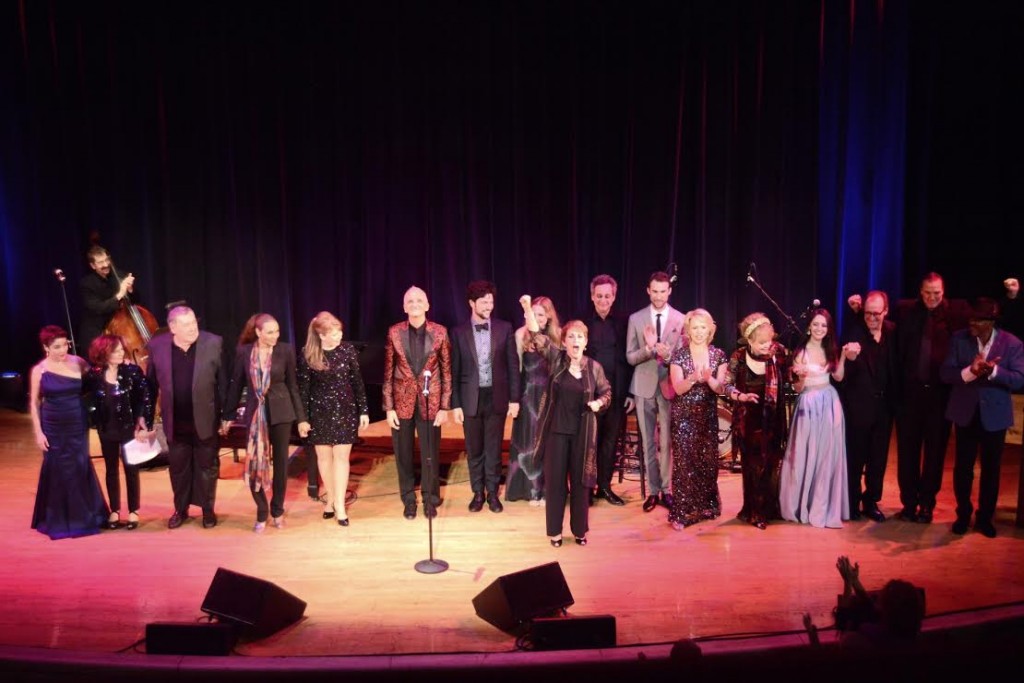 And my favorite baritone on the planet, my husband George, made his Town Hall debut and tore the roof off the theatre. (This is us, the VERY happy couple, with the brilliant cabaret diva K.T. Sullivan, who invited us to join this stellar event. Bless her forever!)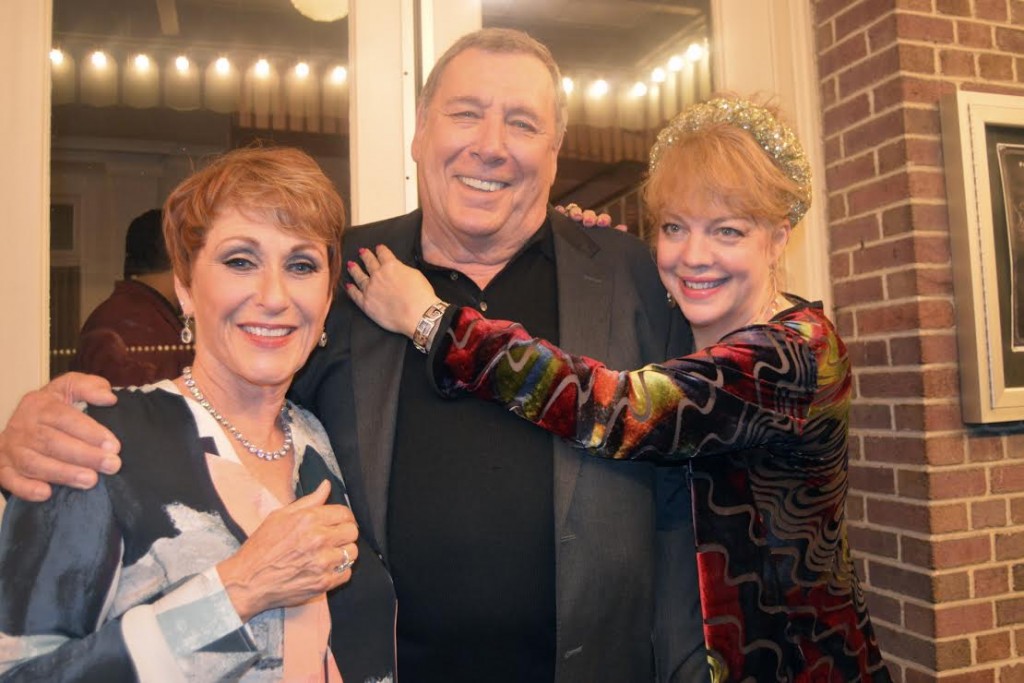 And then home to wash out the pantyhose and one week later BACK to NYC to sing at the divine Ms. Barbara Cook's 85th birthday party. What a room full of talent! I was especially thrilled to be in the same room as the great composing team of Charles Strouse and Lee Adams , David Zipple, JohnBucchino,and the divine Sheldon Harnick… heroes of the world of musical theatre, with Barbara as their heroine.
And then…home for the holidays!
I shared a lovely lunch with Michael Feinstein and his delicious honey Terrance Flannery at their avocado ranch up the road from us in Carpenteria. They are serious farmers, these two, when not in their tuxedos. Any day, I expect "George Gershwin Gentleman's Guacamole" to hit the shelves of the best delis in New York.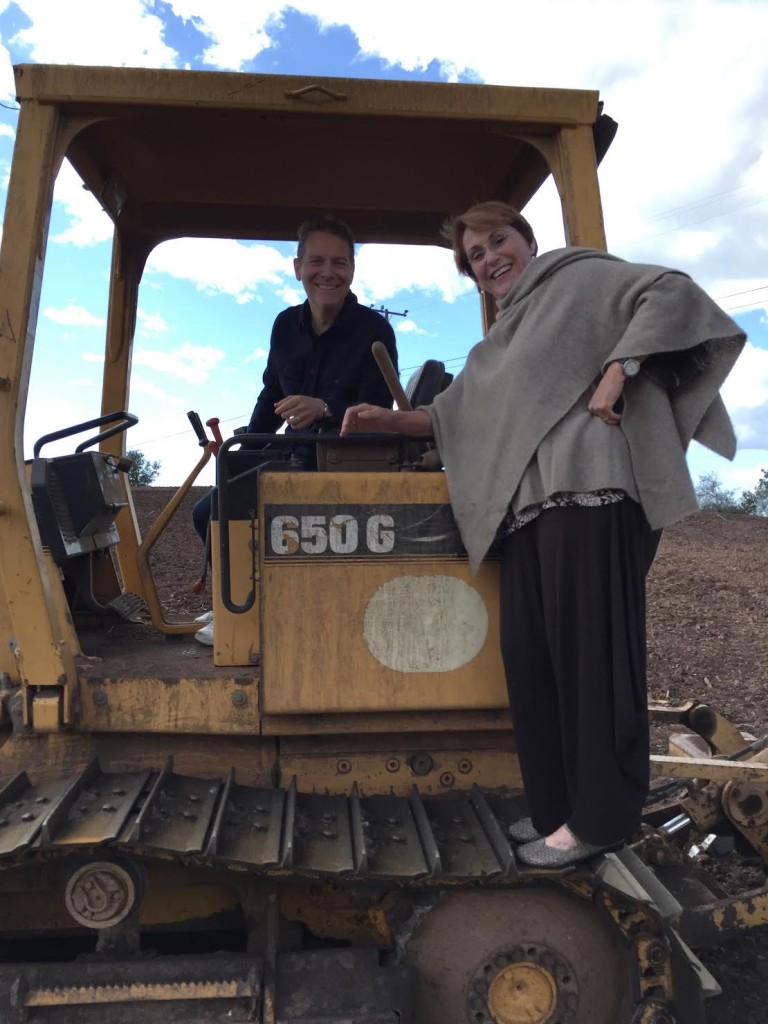 And then days and days of very little to do but walk the dogs, cook, write poetry, and keep the garden alive while we pray for the rains to come. My prayers wing ever skyward for the rain finally to make it to our side of the mountains!
We celebrated our 41st wedding anniversary…UNBELIEVABLE…in one of the most glorious spots on earth…Death Valley. Don't laugh! It is a truly awe inspiring place…a bucket list for me. We had the most wonderful time. I find it a true miracle that with all the oceanic passages of married time, the ups and downs, the huge highs and deep lows, we are still very much in love. The trick for me has been to marry my best friend. I remember hearing an interview with two people who had been married for 80 years. When asked the secret of their longevity, the husband answered "every day of our life together I have left her a love note somewhere." I thought, how brilliant! That means every day, no matter what happened the night before, you have to remind yourself of why you love your partner. It is a great exercise. I recommend it!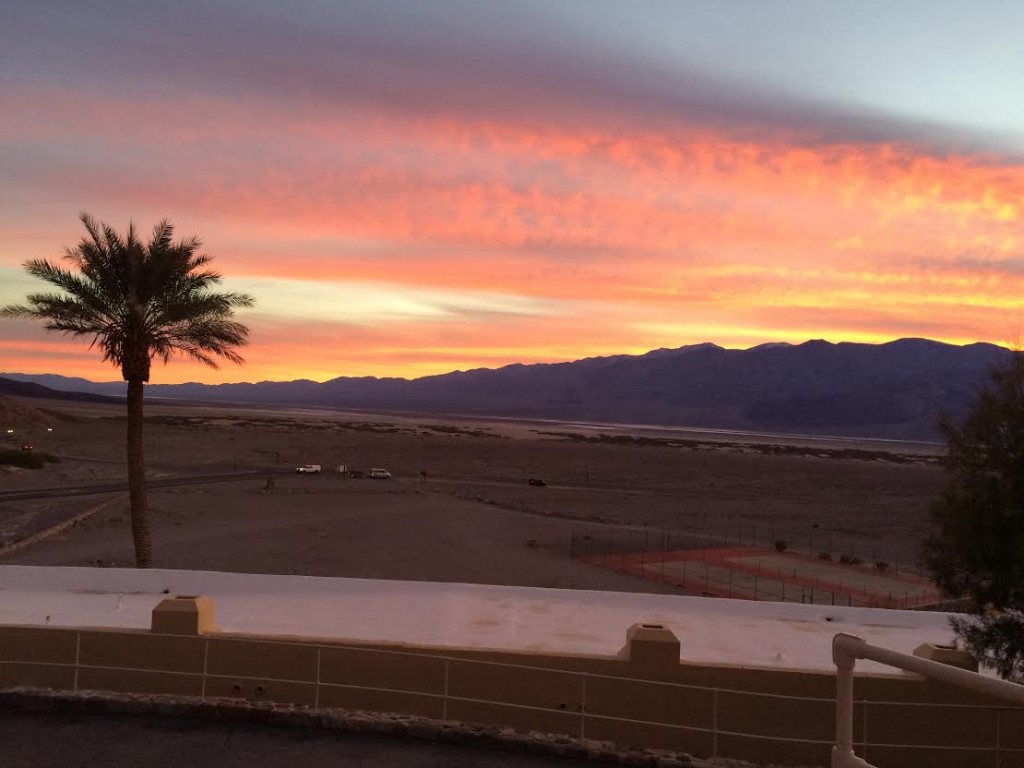 Two concerts left in my 2015 calendar…Beverly Hills and in my own home town. Then we burn the eyelashes and get out the good wine!!!!
These past two months has been a view in miniature of this year to me.
Great joys…singing, anniversary, friends together…great sorrows…the loss of two of our dearest friends, Thom Thomas the brilliant playwright, and Michail Larry Haynes, my pal since we were 14, when we were in competing marching bands in South Texas. He played the clarinet, I, the snare drum. (He looked much better in his uniform than I did. )I was his date to the Junior Prom.He was a brilliant artist, singer, soul. He rides around on my shoulder many times a day lately. Hi, Michail. I miss you.
Lately, ostrich-like, I find myself not reading the front section of the paper, not watching the news. I hear enough to darken my heart, to challenge my understanding.
I have come to the conclusion that the one unanswerable question is WHY.
WHAT, HOW, and WHERE can somehow be grasped, often explained. But the WHY of it all is unfathomable to me.
So my Christmas challenge is to keep my hope rising, to believe in the light that will return. Isn't that what this season is supposed to be about? To not just hold prayers and good thoughts in my heart, but to DO what I can in real time with real effort to heal and help.
And so, I send you all wishes for a great, peaceful, loving , ACTIVE holiday.
Here, from me to you, the gift of a new Christmas song lyric. (Hopefully I will be recording this before the next holiday comes around!)
ALL I WANT FOR CHRISTMAS IS YOU
Scarlet ribbons…silver bells…
Rainbows on a string…
Icy windows and first Noels..
Songs the season brings.
Here we are again, my love,
Underneath a tree.
Time for me to let you know
Just what you mean to me.
You're my Christmas angel.
You're my silver star.
There's a sweet warm light shining
Wherever you are.
If I had one gift to wish for
To last my whole life through,
All I'd want for Christmas is you.
All I want for Christmas is you.
In the hustle and the rush of the season,
Sometimes we forget why we're here.
To love and to share, to show that we care.
It's the loneliest or the loveliest time of year.
You're my Christmas angel.
You're my silver star.
There's a sweet warm light shining
Wherever you are.
If I had one gift to wish for
To last my whole life through,
All I ever want for Christmas …
All I ever need for Christmas ..
All I want for Christmas is you.
May your greatest gifts be to and from your heart!
Joy in whatever you may be celebrating!
Much love to you.