I can't believe we are almost to THE HOLIDAYS in all their capitalization, and my brain is still somewhere in June.
Let's just say I got blogged down in life. Actually, down is not the word.
This been an astoundingly UP year!
 Adventures everywhere!
The last time I sat down to blog it was June, summer was a-comin' in, and I was packing and unpacking continuously. Okay…so here is, in a thumbnail, what I did on my summer vacation:
I flew to Chicago to teach master classes with my beloved friend and genius fellow teacher, Blues Mother, Lina Koutrakis and her divine partners in crime, Rick Jensen and Chicago's own Becky Menzie. We blew some minds and opened some hearts and it was GOOD!
 (That's me and Lina…sisters in song.)
The day after that, I repacked for Winter Down Under and my partner in musical crime, Michele Brourman, and I went to Melbourne to sing a return engagement at the fabulous Melbourne Recital Center, where we also taught some master classes to some very tall and talented young jazz ladies…
After that we flew to Sydney where we did another concert at the gorgeous concert hall at Angel Place (where I made my OZ debut so many, many moons ago.) And we finally met the fabulous Tyran Parke, triple threat singer/actor/director in Australia who has recorded a song we wrote expressly for him for his amazing concept album based on his brother Trent Parke's fierce photography. The CD is called COMPOSITIONS, and it is a beauty. Tyran had asked Stephen Schwartz and John Bucchino and David Shire to write songs for this project, so when he asked us as well, we felt highly flattered.
A long-distance, e-relationship began with him. When we finally met in Sydney, he charmed our pants off, and invited us to come see his "little theater". We followed him down several back alleys, wondering where we were headed and if we would come back alive. He finally opened an old metal door and led us into a dark cavern. When he turned on the lights, we gasped! His "little theater" is a magnificent, fully restored movie PALACE from the '20's called The State. Marble floors, golden walls, alabaster life-sized alabaster statues everywhere, the largest crystal chandelier in the Southern Hemisphere. We wept for the wonder of it. The three of us wandering through this old, empty magnificence is something I will never forget. Thank you ,Tyran!
Then to New York where the wonderful Eric Michael Gillette is creating a review of MY songs, called , at the moment, The Amanda McBroom Project . I was there for two of the backer's auditions. They were wonderful. People stood and cheered and even waved check books! A wonderful cast of women, that included my dear pal KT Sullivan, sang their hearts out. I was so moved. May this come to pass!
Then back to summer in California. Put away the winter jackets, get out the flip flops. Duo concerts for George and me in LA at Catalina's…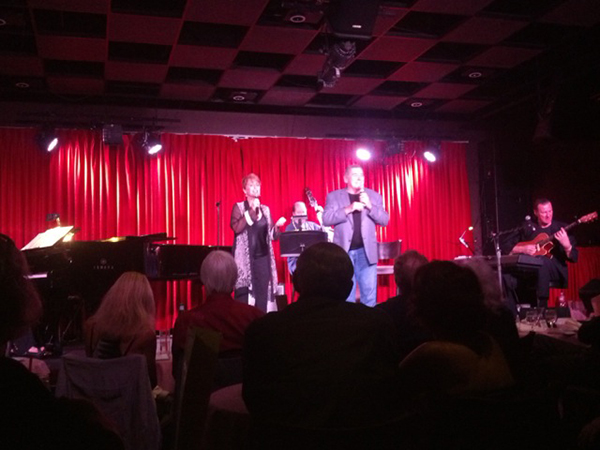 …then off to New York Sooty, to perform together at the great boite, 54 Below. George and I have not sung together in New York since "Jacques Brel" in the Village in 1969!
It was a grand reunion and we wow'd 'em. Saw many dear friends!Not bad for a couple of musical geezers!
So now Halloween has come and gone, and we are packing once again for another bucket list dream come true…off to Buenos Aires and Antarctica for Thanksgiving. Something to truly be thankful for!
Whew! That has been MY dance card…
full to bursting.
The elections came. The elections went. We shall see what it all portends. Here is my favorite article about that event.
NEW YORK (The Borowitz Report)
BOROWITZ REPORT
NOVEMBER 9, 2014
Country on Wrong Track, Say People Who Did Not Vote
BY ANDY BOROWITZ
NEW YORK (The Borowitz Report)—The United States of America is on the wrong track and no one is taking action to fix it, says a broad majority of registered voters who did not vote last Tuesday.
According to a new survey, anger, frustration, and a pervasive view that the nation is moving in a fatal direction dominated the mood of those who were doing something other than voting on Election Day.
Exit polls involving election non-participants took place as they left malls, nail salons, gyms, and other locations where no voting occurred on Tuesday.
"The system is broken," said Carol Foyler, thirty-one, a democracy abstainer from Akron, Ohio. "We need to come up with some way that ordinary citizens can make their voices heard and have some impact on who is running things in Washington."
The economy, jobs, and terrorism topped the list of worries that are preying on the minds of the non-voting electorate.
"I find it difficult to sleep at night worrying about the kind of country we are leaving to our children and our children's children," said Mark Gardziak, forty-seven, who spent Election Day shopping for a phone.
While pessimism about the future dominated the comments of the sixty-three per cent of American voters who elected not to exercise their democratic rights on Tuesday, some expressed a glimmer of hope.
"The one way things could get better is if we all get together and throw out the crooked politicians," offered Tess Shardin, thirty-eight, who said she was unlikely to vote in 2016.
Sigh.
THE CULTURE CORNER:

BOOKS: "Wolf Hall"; "Where'd You Go Bernadette"
MOVIES & TV: "Olive Kittredge" and, I must confess "Outlander" (Handsome men in kilts with knives. What can I say?)
MUSIC: Brandy Clark-"12 Stories", Susan Werner –"Hayseed"
MY POEM FOR THE MONTH:
COTTONWOOD AUTUMN
What time is it?
Someone will ask,
And I will say, "It's autumn."
Just autumn…
Somewhere by a river,
Somewhere in Montana,
And the cottonwoods are turning gold,
Leaves shivering
In the crisp of the breeze,
Age-spotted,
Brown dotted,
Falling, floating,
Whispering to each other,
"What time is it?"
Time to fall,
Time to die gracefully and drift,
Not toward a shining light,
But a soft sand bed,
To carpet the ground with fragile paper
For the winter to compose upon.
And I promise myself
To only think in seasons,
No days, no dates, no minutes.
Only in winter-thirty
And quarter-past-spring.
What time is it?
I wish someone would ask.
I would say,
"It's autumn."
Happy Holidays!
(My favorite Halloween costumes!)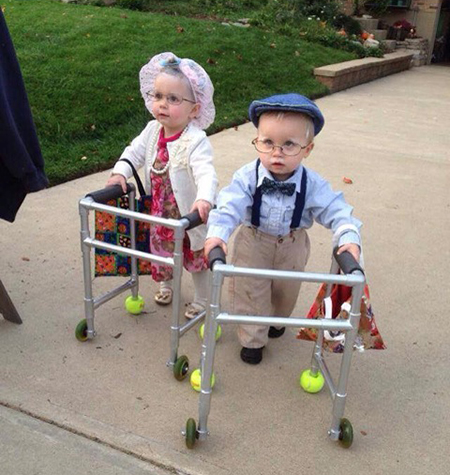 Love,
Amanda